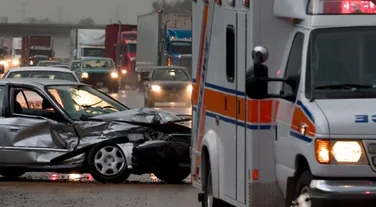 Auto accidents are one of the leading causes of chronic pain and disability in the United States. If you've been in a car accident, see the pain experts at Willis Wellness Group in Florence, South Carolina. Led by Ray Willis, DC, the integrated medical team offers effective solutions to relieve your pain and get you back to normal. To learn more, book an appointment online or over the phone today.


When should I see a doctor after an auto accident?
You should see the team at Willis Wellness Group after any auto accident. Physical exams, concussion screenings, and injury reports are most accurate immediately after an accident, even though it may take a few days or weeks to begin experiencing pain.
Auto accident injuries are possible even in low-speed collisions. If left untreated, neck pain, stiffness, and other joint issues can become chronic and lead to long-term disability.


What types of auto accident injuries require treatment?
The Willis Wellness Group treats many types of auto accident injuries, including:
Whiplash
Muscle strains
Neck pain and stiffness
Decreased range of motion
Lower back pain
Numbness and tingling in the arms and hands
Shoulder pain
Minor cuts, scrapes, and bruises
The team also screens for concussions, which can cause fatigue, confusion, and problems with memory in mild cases. Patients with more serious concussions may also be referred to a neurologist.

How are auto accident injuries diagnosed?
In order to understand the extent and severity of your injuries, your provider will begin with a thorough review of what happened during the accident, how fast you and the other driver were traveling, and the angle of impact. Then your provider will perform a physical exam.
Your physical exam will assess your range of motion, muscle strength and flexibility, and basic nerve functions. Orthopedic tests may also be included to assess the function of the ligaments and muscles in your neck.
Your provider may also recommend getting X-rays or an MRI. Based on the results, your provider will explain your diagnosis and provide a treatment plan.


How are auto accident injuries treated?
Your provider will likely recommend therapy, which may include chiropractic care, massage therapy, rehabilitation exercises, hot or cold therapy, and electrical stimulation.
The first goal of treatment is to relieve your pain. Next, your provider will aim to improve your range of motion. Once you've returned to normal, you can continue your rehabilitation exercises and stretches at home.